MVP Arena | Albany, New York
Are you ready for this?? That's right, Five Finger Death Punch are back, on a massive co-headlining tour with Breaking Benjamin! They're headed to the Times Union Center on Monday 10th December 2018 for a show that will rock you senseless! Book your Five Finger Death Punch & Breaking Benjamin tickets today!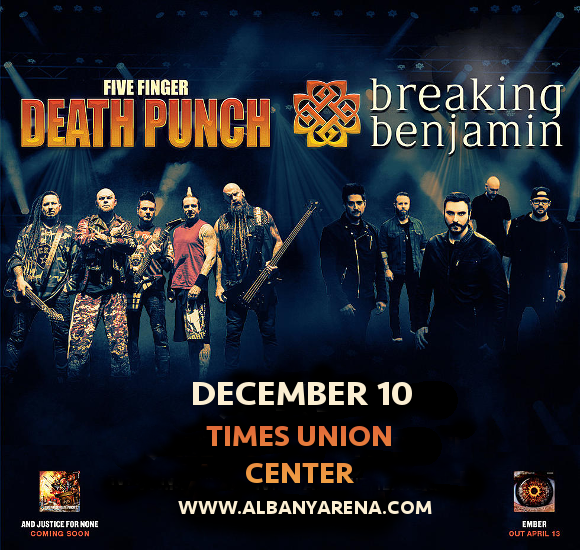 Currently comprised of Zoltan Bathory, Jeremy Spencer, Ivan L. Moody, Jason Hook and Chris Kael, Five Finger Death Punch have been shattering the thrash and groove metal scenes since they first appeared with 2007's "The Way Of The Fist". This year has been hard on the band, with their vocalist Moody's struggles with addiction, but they've pulled through spectacularly, and the latest album, "And Justice For None," reflects the band's recent trials and seeks to connect with others who may have experienced similar circumstances.
"What we do with our lyrics is we try to connect, whether that's culturally, politically or personally, what we say has to be relevant to everyone. There are no Vikings or wizards with us. An album is a snapshot of what's happening with us and it's no secret that Ivan has had problems and he has faced them. He's a tornado, he goes through so many emotions on this album."