MVP Arena is home to five-time MAAC champions, Siena Saints Men's Basketball Team! Here, you'll find courtside tickets to all this season's home games, where you'll find the Saints making some serious noise as the ones to watch in college basketball! Tickets available now – make sure you never a miss a game!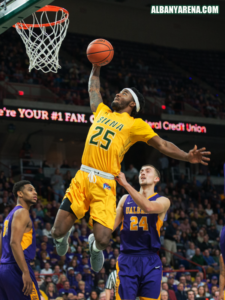 Representing Siena College in Loudonville, New York and currently coached by Jimmy Patsos, the Siena Saints were founded in 1937. Since joining the MAAC in 1989-90, Siena has won 41 MAAC Basketball Championships (more than any other school), and made the most postseason appearances. The team has appeared in six NCAA Tournaments (1989, 1999, 2002, 2008, 2009 and 2010), and at their first, in 1989, Siena stars Marc Brown and Steve McCoy led the school to their greatest triumph in an 80-78 victory over third seeded Stanford. They have also competed in six NIT post-season tournaments, including 1994 semifinals at Madison Square Garden. The team were also 2014 College Basketball Invitational Champions.
Many Siena Saints alumni have gone on to make huge waves in the field of basketball:
Edwin Ubiles became the first former Saint to play in an NBA game, appearing for the Washington Wizards during the 2011-12 season
Kenny Hasbrouck '09 signed with the Miami Heat and is currently one of seven former student athletes playing basketball overseas professionally
Tay Fisher '08 plays for the Harlem Globetrotters
O.D. Anosike '13 led the nation in rebounding in 2011-12 and 2012-13 and Ronald Moore `10 led the country in assists in 2010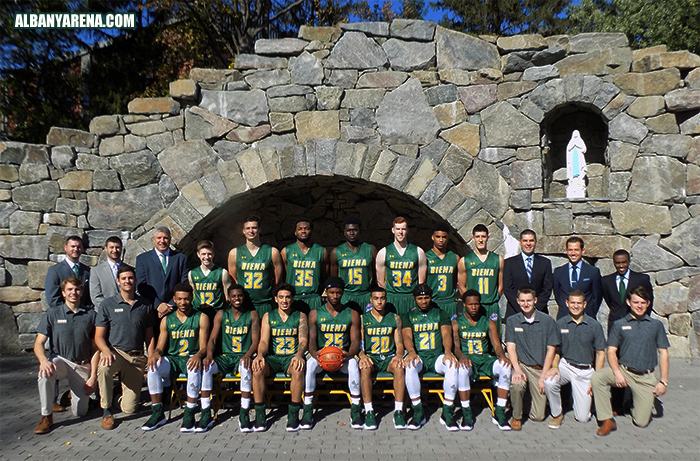 So, what are you waiting for, sports fans…? Book your tickets for this season today!