MVP Arena | Albany, New York
One of the world's biggest and best-loved festival bands, Phish, comes to Times Union Center on Wednesday 17th October 2018 for the second night in a row! Trey, Page, Mike and Fish will once again take fans on a musical journey, brushing with psychedelia on their way through jazz, folk, country, bluegrass, pop and any number of other genres – all contributing to the unique sound and spectacle that makes Phish such a treat to see live!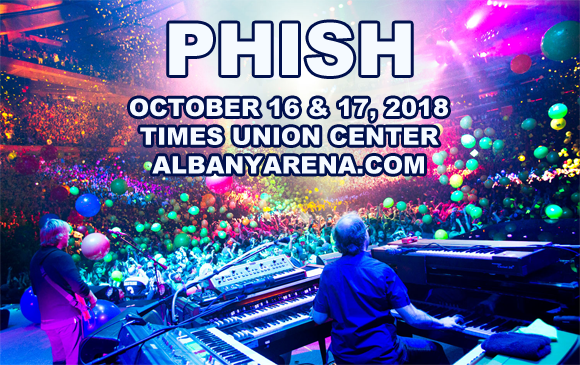 A legendary band on both the national and international festival circuit, American jam rock band Phish followed where the Grateful Dead left off, with their free-form, genre-defying music and spontaneous, improvisation-led live shows. Formed in 1983, the band's dedication to being on the road has built them a huge and loyal following – the group's current line-up of "Trey, Page, Mike, and Fish" met at the University of Vermont and they have been touring together for over thirty years, continuing to sell out stadiums and amphitheatres year-on-year. To date, Phish has released thirteen studio albums, and the group has sold over eight million albums and DVDs in the United States.