MVP Arena | Albany, New York
Known for their visually and sonically out-of-this-world live shows, iconic jam band Phish is headed to Times Union Center on Tuesday 16th October 2018 for two nights of their 2018 Summer Tour! The group is well known for their ever-changing musical landscape – breathing new life into each of their songs every time they are played with the help of virtuoso talent and sheer groove! Simply unmissable!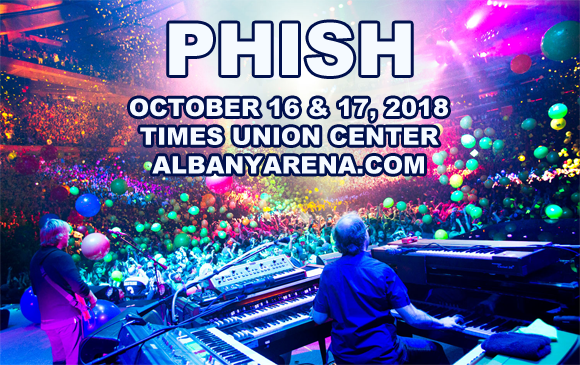 A legendary band on both the national and international festival circuit, American jam rock band Phish followed where the Grateful Dead left off, with their free-form, genre-defying music and spontaneous, improvisation-led live shows. Formed in 1983, the band's dedication to being on the road has built them a huge and loyal following – the group's current line-up of "Trey, Page, Mike, and Fish" met at the University of Vermont and they have been touring together for over thirty years, continuing to sell out stadiums and amphitheatres year-on-year. To date, Phish has released thirteen studio albums, and the group has sold over eight million albums and DVDs in the United States.