MVP Arena | Albany, New York
Lovers of glam metal, get ready to see Poison with support from Tesla on May 9th at the Tmes Union Center!! Tickets on sale now, but not for long – don't wait about in getting yours!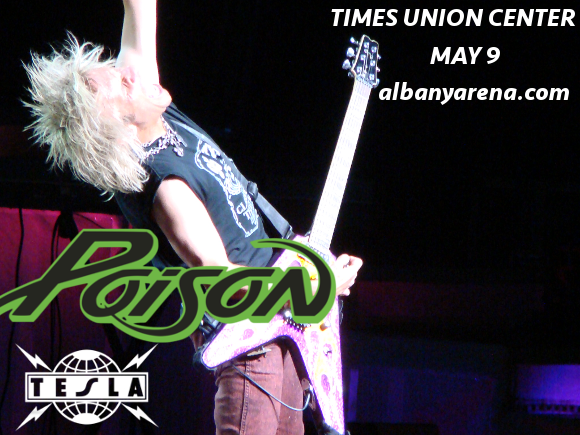 Formed by band members Bret Michaels, Matt Smith, Bobby Dall, and Rikki Rockett, originally performing as "Paris," in Mechanicsburg, Pennsylvania, the band moved to Los Angeles in 1984, changing their name to Poison. After holding auditions and finding guitarist C.C. Deville, the lineup was complete, and the band began to develop a devoted fan following. Signing to Enigma Records in 1986, Poison released their massive album, "Look What the Cat Dragged In" and took contemporary audiences by storm!! The four singles, : "Talk Dirty to Me", "I Want Action", "I Won't Forget You" and "Cry Tough," helped gain the album massive popularity. The album has now sold more than four million copies worldwide, has been certified a whopping 3x multi-platinum, and is considered one of the best examples of glam metal both in terms of music and image. They saw even greater heights with their second album, "Open Up And Say… Ahh!" which became their best-selling album of all time, becoming certified no less than 5 times platinum!!
Their popularity continued with subsequent releases, including their first live album "Swallow This Live," their fourth studio album, "Native Tongue," and their compilation album, "Poison's Greatest Hits: 1986–1996", which went double platinum. One of the standout innovative forces in glam and "hair," metal at the time, startling and delighting with their fun music and bold androgyny, the band continue to record, release and tour to their legions of adoring fans today, selling out arenas and stadiums the world over! Don't miss out on yoour chance to be a part of the experience – get your tickets to see Poison today!!