MVP Arena | Albany, New York
Huge news for all Weezer and Pixies fans!! If you missed your chance to see them in 2018, don't despair – this incredible co-headlining duo returns to the stage in 2019!! Fans, get ready to welcome Weezer and Pixies to the Times Union Center on Thursday 14th March 2019! Tickets are expected to DISAPPEAR, so don't miss out – grab yours today!!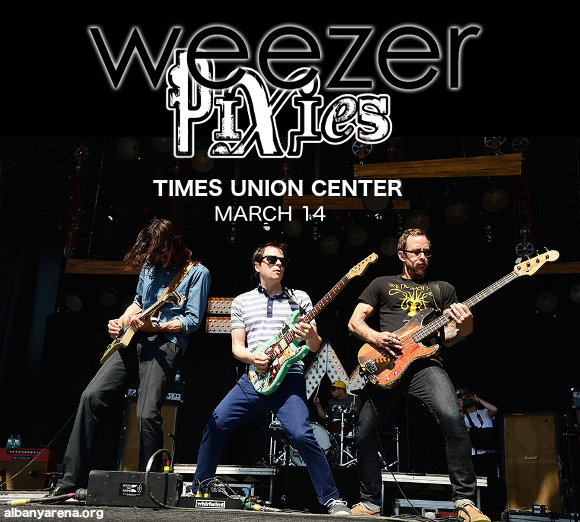 Formed in Boston in 1986, the Pixies, originally formed of principal songwriter and singer/guitarist Black Francis, guitarist Joey Santiago, bassist Kim Deal, and drummer David Lovering, the Pixies spearheaded what later became known as the alternative rock boom of the 1990s.
With their signature loud-soft dynamic and abrasive mix of surf rock and punk, the Pixies' influence on popular music to this day has been untold, their most famous fans being Nirvana. "When I heard the Pixies for the first time, I connected with that band so strongly I should have been in that band – or at least a Pixies cover band," frontman Kurt Cobain said, stating that in forming Nirvana he was "basically trying to rip off the Pixies".
Get ready to experience the sound that defined a genre LIVE for yourself – make sure you've got your tickets to see Weezer and the Pixies!!